Next-Level Luxury at Prices You Can Afford: The Best Used Buick Models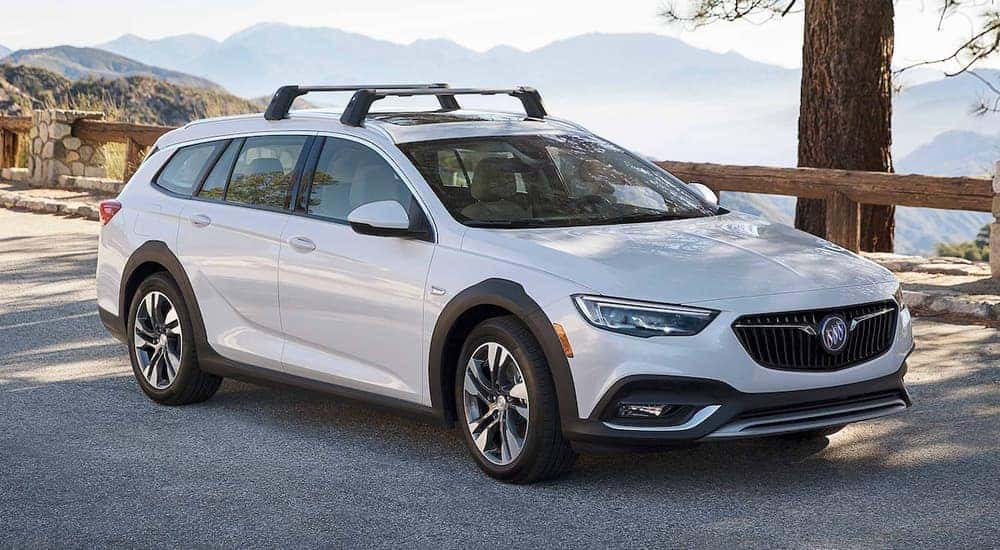 What's the best automotive brand for drivers shopping on a budget? While Honda and Toyota are often praised for their affordable and pragmatic lineups, there's a hidden gem in the automotive industry that can provide the luxury you desire. Your search for a used Buick dealer means you've already uncovered one of the best-kept secrets in America's rich automotive landscape. But how does this impact your future on the road and the money in your wallet? It's time to find out.
As your premier Buick dealer, we're excited to show you some of the most incredible Buick models you'll find on our used lot. Buick is renowned for making luxury affordable, and that feat is even more apparent when shopping used. Loaded with features and delivering plenty of power, our top picks will stretch your hard-earned dollar without forcing you to settle for less.
Looking for Sport-Like Performance? Shop the Buick Regal
It's only fitting to start our list with one of General Motors' longest-running nameplates: the Buick Regal. Inspired by the Ford Thunderbird and Chevrolet Monte Carlo, the Regal expanded the Buick lineup in the early 1970s and introduced a new type of personal luxury with its massive platform and hearty V8 engine. Over the following decades, the Regal evolved into an exceptional performer with the Regal Grand National. The iconic 1987 Regal GNX was the ultimate performance car of its day and shocked drivers with its staggering launch from 0 to 60 mph in under five seconds.
The Regal's ability to blend performance and luxury has defined its heritage in the Buick lineup, making it a fan favorite among loyal Buick drivers. It also makes it an excellent option for those who don't want to sacrifice performance and handling for the sake of their budget. The 2019 Regal GS is especially attractive, with its 3.6L V6 engine delivering 310 hp and 282 lb-ft of torque for outstanding off-the-line acceleration and capability. Add in the model's plush interior, and there's no question that the Regal GS is a fantastic all-around buy!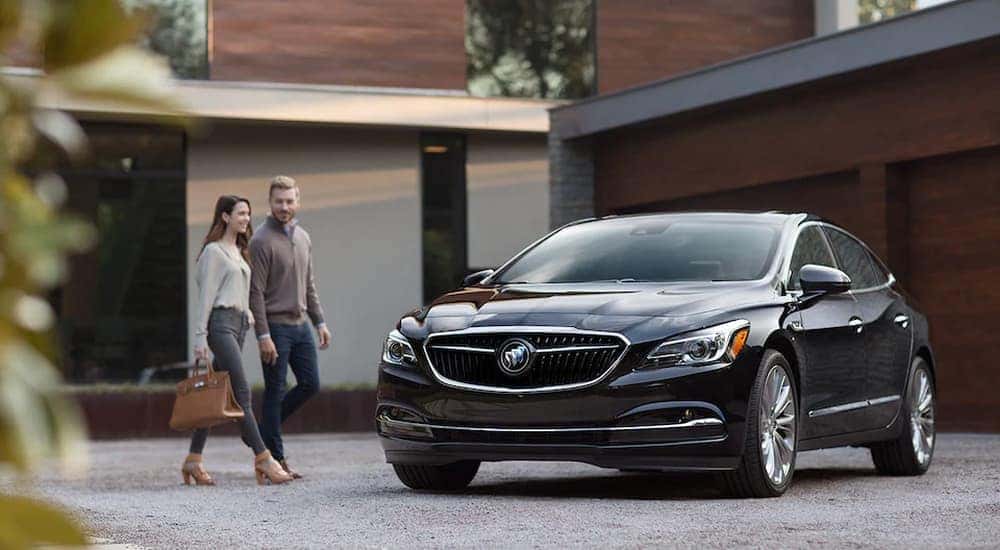 Looking for an Exceptional Ride? Shop the Buick LaCrosse
The LaCrosse exudes luxury, whether you're shopping for a first-generation model from 2008, a second-generation model from 2011, or a third-generation model from 2019. An opulent interior and refined handling defined the sedan throughout its tenure in the Buick lineup, which ran from 2005 to 2019. Between its high-quality interior, sophisticated handling, and relatively recent discontinuation, it's no surprise that the LaCrosse is a top pick on the used lot and represents outstanding value.
The 2019 LaCrosse is an exceptional find because it's the model's last year in Buick's lineup. Buick completely redesigned the LaCrosse for 2017, adding next-level luxury to the sedan. Its cushioned seats, spacious cabin, and expansive suite of standard features made it excellent value on the new lot, so you can expect an even better deal when buying a used model. Additionally, Buick added to the LaCrosse's appeal by offering two powertrains: a 2.5L four-cylinder hybrid and a 3.6L V6 engine capable of launching from 0 to 60 mph in under six seconds.
The LaCrosse is responsive and engaging to drive with either powertrain, but it also delivers an outstanding ride. Its large platform adds stability and improves handling. Buick takes this handling to the next level with its adaptive suspension system, which comes standard on models outfitted with 20-inch wheels. The system transforms the LaCrosse into an athletic performer capable of handling winding roads without missing a beat.
Looking for Spaciousness and Capability? Shop the Buick Envision
As a compact crossover, the Envision holds a coveted place in Buick's current lineup. First introduced in 2016, the Envision blends luxury and performance with tranquility and comfort. This exceptional balance has defined the SUV since its debut, positioning it alongside rival brands like Audi and BMW. Since the Envision is far more affordable, there's no question who wins this race.
The 2020 Envision blends these characteristics remarkably well, with its two-row layout offering ample room and plush seating for everyone's comfort. Budget-friendly rivals from Toyota, Honda, and Kia can't compete, especially not on the used lot where buyers can find a top-tier Envision with modern technology and luxuries at a great price.
For next-level luxury and capability, look for a 2020 Envision with the 2.0L turbocharged four-cylinder engine under the hood. The turbocharged powerplant is mated to a nine-speed automatic transmission and churns out 252 hp. The SUV is exceptionally balanced and works incredibly well with the locking rear differential and all-wheel drive system to optimize handling, stability, and control in all conditions.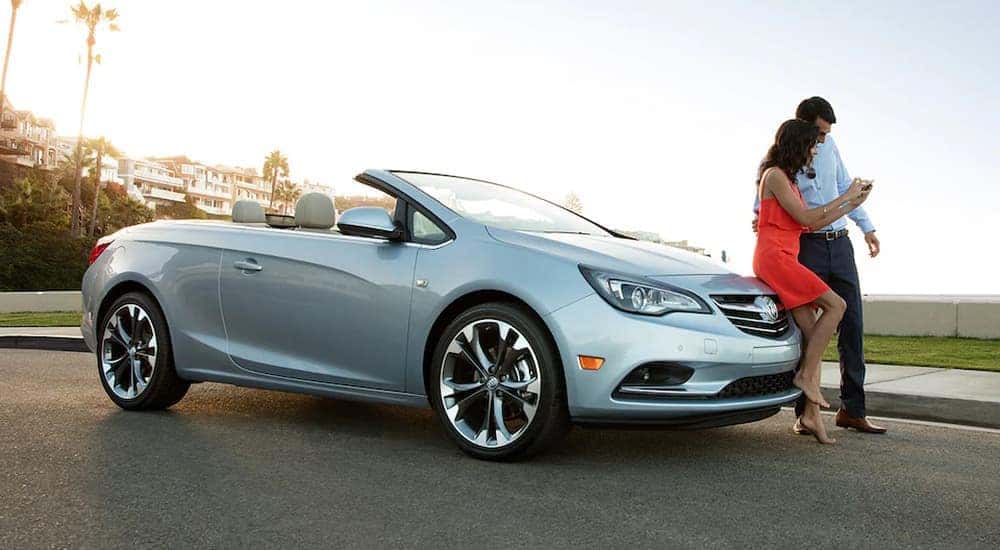 Looking for an Open-Air Experience? Shop the Buick Cascada
Although Buick's current lineup is exclusively SUVs, shopping for a used Buick means enjoying an array of fun cars like the Buick Cascada. This two-door soft-top convertible had a relatively short history in the Buick lineup, with production running from 2016 to 2019. So, what does this mean for you?
The Cascada's brief tenure in the Buick lineup works to your advantage because it lets you get behind the wheel of an upscale, compact convertible at a fraction of the cost. With only a four-year run, you'll find many similarities between all the available used models. The Cascada boasts an attractive and sporty exterior with only minor updates over the years, like the addition of twin-spoke 20-inch wheels on the 2018 Sport Touring model.
When shopping for the Cascada, remember that it's designed with luxury in mind and comes standard with a long list of premium features and conveniences. This opulence ensures that the Cascada offers a comfortable and enjoyable ride befitting a convertible. But how does it handle? You might be surprised by the Cascada's performance, especially on winding back roads and scenic highways. Its 200-hp turbocharged engine is dependable and remarkably quiet, ensuring you enjoy every second of the Cascada's immersive, open-air driving experience.
Where Luxury Meets Affordability
Shopping for a used car is a fantastic way to put your hard-earned money to work. How so? New vehicles are prone to rapid depreciation or loss in value, meaning you lose money before you get home. Fortunately, more and more drivers are discovering one of the industry's best-kept secrets––the perks of buying used. You've taken that discovery to the next level by narrowing your search to used Buicks that offer incredible value on the used lot.
So, what Buick will you drive? There's only one way to find out, and it starts with getting behind the wheel for a test drive. We encourage our customers to do their homework, research their top picks, and sit in the driver's seat. In doing so, you'll discover how Buick manages to defy the odds with every model. The Regal GS may look the part of a sedan, but its hearty engine proves otherwise as it delivers sport-like handling that pays homage to its rich heritage in the Buick lineup. The Envision competes against luxury brands like Audi and BMW, offering more spaciousness and amenities at a price you'll love. But don't simply take our word for it; discover the Buick advantage for yourself.