What Does 2023 Hold for Buick?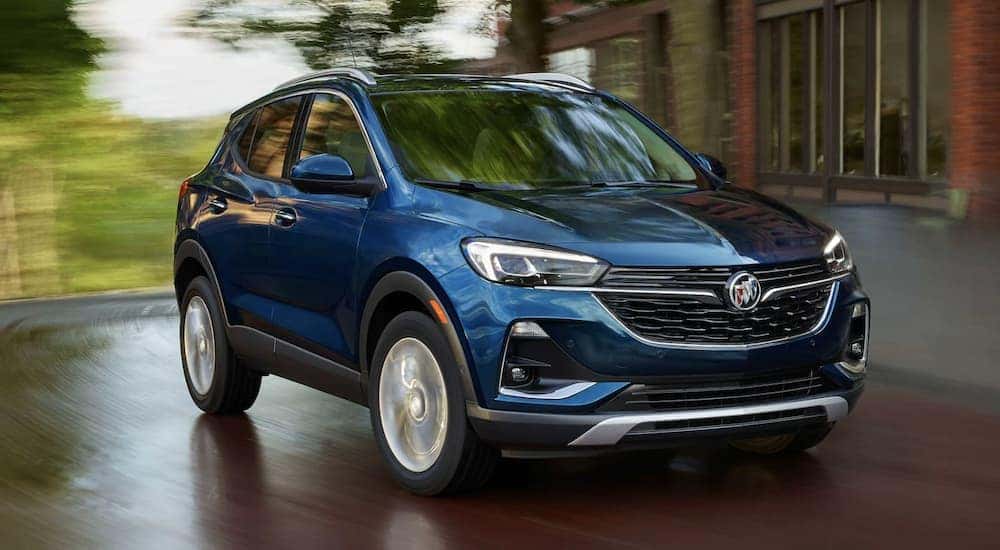 2023 marks a year of transition for Buick as the brand prepares to introduce entirely redesigned versions of some of its most popular models. With the rumored discontinuation of the Encore after 2022, the current Buick lineup will be down to three: the Encore GX, Enclave, and Envision. While it will largely be a carryover year for the three remaining SUVs, that doesn't mean there's not some news on the horizon as Buick continues to make inroads in the ultra-competitive luxury SUV sector. New color options, accessory packages, and wheel options will soon hit the floor here at your Buick dealer in Minot, but it's the automaker's rebranding and ambitious electric vehicle plans that earn all the headlines this time around.
GM has already announced its intention to phase out all gas-powered vehicles by 2035, but Buick is taking it one step further with the announcement that the brand will go all-electric soon, with 2030 pegged as a target date. It's an ambitious goal, but it goes a long way in proving just how important electric vehicles will be to the future growth of the brand and industry as a whole. Let's take a closer look at those EV ambitions, check in on each model and see how 2023 is shaping up in the world of Buick.
How the Encore GX Became a Favorite
The Encore GX hit the market back in 2020 as a larger, more upscale version of the brand's popular Encore crossover. With GM putting the base model Encore out to pasture at the end of the 2022 model year, it's now the GX's chance to take a turn in the spotlight. In many ways, the older Encore, which originally debuted in 2013, was a victim of the GX's success. The larger version became an instant best-seller upon its debut, quickly gobbling up market share and leaving little room in the lineup for the aging Encore.
Buick had already been winding down the Encore over the past few years, offering fewer trim options each year before eventually deciding to pull the plug entirely as GX sales shot up 59 percent in 2021 alone. Given that the Encore GX now represents over half of Buick's annual U.S. sales, it wasn't hard to see this move coming, and we doubt drivers will lose any sleep over the decision with the well-equipped GX model on offer.
While the GX has earned the luxury tag when it comes to features and ride comfort, you wouldn't know it from the price. The crossover is offered in three trim levels – Preferred, Select, and Essence – but even the top-tier option rings in at just $29,000 to start. The subcompact Buick Encore GX has been lauded for its comfortable ride as well as a generous slate of standard tech and safety features, making the Encore GX a perennial contender in the ultra-competitive segment. The SUV features an impressive 8-inch diagonal touchscreen display as part of its comprehensive infotainment system, but it's the Encore GX's safety features that really caught our attention this time around. The Buick includes Lane Keep Assist, Automatic Emergency Braking, Automatic High-Beams, and Forward Collision Alert as standard features, which go a long way in earning it high marks from the IIHS and NHTSA.
Updates for the 2023 Encore GX
2023 doesn't bring many changes to the popular GX model, but again, it only has itself to blame. Buick seems to have hit on a winning formula with the GX, and while it's important to keep things fresh, it's more than understandable that the automaker isn't interested in messing with success just for the heck of it. The main highlight for 2023 comes in the form of an expanded color option, with a Moonstone Gray Metallic option earning a spot in the lineup that also includes Summit White, White Frost Tricoat, Ebony Twilight Metallic, Satin Steel Metallic, Sunset Glow Metallic, Rosewood Metallic, Sapphire Metallic, and Cinnabar Metallic.
Those seeking a little more visual variety have some clever equipment packages to choose from for the 2023 model year. The Sport Touring edition sees the addition of red accents throughout the bumper, 18-inch high-gloss wheels, and a custom grille with a distinctive inlaid pattern. Drivers looking for a darker vibe will appreciate the Black Roof package, which adds a black roof, along with black mirrors and roof rails to complete the look. The latter package is only available on a limited range of color options, but it goes a long way in helping the subcompact crossover stand out in a crowded field.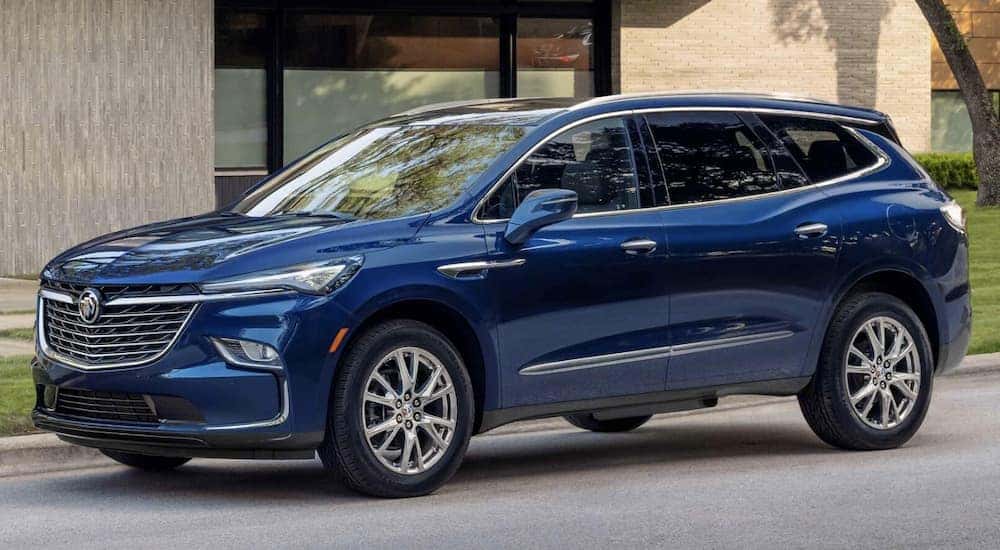 Updates for the 2023 Enclave
No big news for the Buick Enclave moving into the 2023 model year, but be on the lookout for a fully redesigned version for 2024. The full-size luxury crossover just got a refresh in 2022 that included new styling, safety, infotainment, and tech features, as well as the addition of a new Sport Touring package, so we can't really complain. That's not to say the Enclave is entirely the same – Buick has added Moon Gray Metallic to the color palette as well as a new 20-inch wheel option for the Sport Touring package – but for a more comprehensive overhaul, you'll have to wait until next year. The popular three-row SUV has been noted for its spaciousness for both passengers and cargo, as well as its ability to deliver a quiet, comfortable ride that lives up to its luxury label.
Updates for the 2023 Envision
Like the Enclave, the Envision compact crossover SUV remains largely unchanged for 2023. This comes as little surprise since the second-generation Envision only hit the market in 2021, but Buick has included a few modest upgrades for 2022, including two new color options – Moonstone Gray Metallic and White Frost Tricoat – as well as some exciting new optional equipment offerings. Since its debut back in 2014, the Envision has garnered praise for delivering a luxury feel without the luxury price tag. The crossover includes all the advanced safety and infotainment tech drivers would expect from the luxury segment, such as a 10.2-inch touchscreen, automatic emergency braking, automatic parking assist, and lane keep assist while still ringing in at around $31,700. Buick may struggle to keep up with some of the European luxury brands when it comes to sheer prestige in the minds of some drivers, but a short time behind the wheel of a Buick Envision goes a long way in proving that you can't judge a book by its cover.
EV Buicks Are on the Horizon
With the potential decision to retire the Encore crossover, Buick will shrink its already modest lineup to just three vehicles: the Encore GX, Enclave, and Envision. However, the brand will quickly fill the whole with the forthcoming EV lineup expected to debut in 2024, though details are still a little hard to come by. While some had expected the Elektra project to consist of a single model, early indications are that the Elektra name will actually be used to brand an entirely new all-electric lineup. The EV will use GM's Ultium drive motors and batteries, the latter of which is notable for the fact that they use 70 percent less rare and expensive cobalt than average.
The move to EVs is part of a larger effort from parent company GM, which recently announced a goal of discontinuing its entire gas-powered lineup by 2035. It's an ambitious target, to be sure, but if any brand has the experiences and resources to make it work, it would be GM. Buick's EV plans are even more ambitious, with the brand hoping to beat GM to its own goal by five years, according to one vice president. "The Buick brand is committed to an all-electric future by the end of this decade," said global vice president of Buick and GMC, Duncan Aldred.
So far, Buick has only given us a look at one concept vehicle, dubbed the Wildcat EV. The two-door coupe is a departure for the crossover-crazy brand and, to be honest, will probably not see the light of day anytime soon. Reports indicate that the sporty coupe-style was chosen as a way for Buick to help refine the brand's signature style going forward, but the first production-scale EV from the brand will still likely be an SUV. The concept coupe features some novel features – like onboard AI, which can detect a driver's elevated heart rate and engage "Zen mode" to dim cabin lights, activate a seat massager and aromatherapy diffuser – but for a better idea of what an SUV version of a Buick EV might look like, we just have to head to China.
Buick has long been popular in China, and given the country's insatiable appetite for EVs, it's the perfect testing ground for the next generation of electric vehicles. Designed by General Motors engineers in Shanghai, the Electra-X is perhaps a little closer than the Wildcat concept when it comes to the design and features we would see here in a U.S. model. The Electra-X cuts a stunning figure and is, in a word, simply more futuristic-looking than anything in the current Buick lineup. From its trapezoidal grille and thin LED headlights to aggressive intake lines and spoiler, the Elektra-X resembles a sort of minimalistic high-end sports car. This modern minimalism continues on the interior and is most evident in the 30-inch Freeform screen: a massive infotainment and driver information display that features ultra-crisp 6K resolution. A voice command system can also automate over 50 functions, but the EV's most unique feature might be the fact that the seats are made of a 3D-knit fabric sourced from recycled plastic bottles.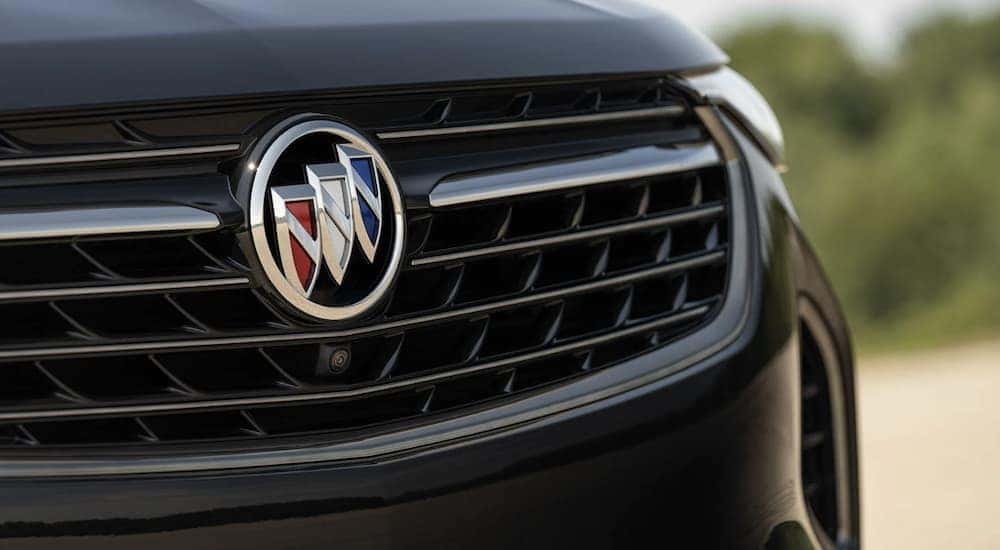 In Other News…
In non-model-related news, Buick is launching a rebrand for 2023 that includes a new logo and an evolution of the automaker's approach to vehicle design. While Buick has yet to unveil what that might look like, the Wildcat concept model provides an interesting sneak peek with its clean lines and sleek, sporty appearance. Designed to coincide with the brand's lofty all-electric goals, the rebrand is a study in minimalist futurism. Nowhere is that more evident than the redesigned Buick logo, which replaces the old-fashioned branding of three shields inside a circle with three slightly tweaked red, white, and blue shields that combine to form a bold stripe pattern. It might not seem like much, but the deletion of the circle somehow brings that stolid Buick logo years into the future in one simple move.
Lastly, Buick has also announced that a new slate of connected vehicle services will now come standard on all Buick models. This sees the addition of OnStar as well as Buick's Connected Services Premium Plan, which includes a remote key fob, Wi-Fi connectivity, and OnStar Safety.
Get Excited for What's Coming Next
There's a lot to get excited about as Buick moves into 2023 and beyond. The luxury brand is hard at work planning for the future and is making an impressive effort to modernize its lineup to meet drivers' changing needs. From new features and perks to redesigned models, logos, and more, the legacy automaker is clearly not content to rest on its laurels in a rapidly changing industry. While the lineup might be shrinking, for the time being, that's sure to increase in the coming years as Buick pursues its ambitious EV plans. Concepts like the Wildcat and Electra-X provide an illuminating glimpse into what the future might hold with Buick merging its reputation for refined styling and performance with the next-generation technology that will keep the brand relevant for years to come. It's an exciting time in the auto world, and Buick seems well-positioned to make the most of a rapidly changing industry.